"It's not simple to manage a business, but the main advantage is you can hone your focus to your professional passions and desires."
Kaspi Shema began AnKa in 2013 to fulfill her dream of creating beautiful, complex, and accurate films. She had studied computer science but always dreamed of doing design and animation. After ten years as a programmer, she took the courageous leap of faith to pursue her dreams.
At that point, she had built an impressive portfolio and began working as a graphic and flash animator. She also designed software interfaces, curated content for exhibitions and business events, as well as created marketing videos.
For eight years, Kaspi Shema excelled as a freelance designer and animator. As she started to get more and more projects, she decided to bring on Miri Dochikian to help tackle the growing amount of work. Miri is AnKa's talented and dedicated art director.
As the years went on, they continued to grow and take on more projects, even working on engagements with big names such as Facebook, Amdocs, and IBM as well as other municipalities and organizations.
"It was a very natural process," says Kaspi Shema as she reflects on AnKa's beginnings. Today, AnKa works with some of the largest organizations in the market to create unique and meticulous video and animation content until the very last frame.
It's no surprise that our AnKa team outshines in creative video solutions for technological services and products. Since Kaspi Shema earned her degree in computer science, she possesses the know-how on how to transform dry technical information into an interesting and appealing video story.
AnKa has completed several successful projects that have left clients raving about our services. We've been able to highlight these projects through The Manifest, a platform that helps clients  find business experts.
One of our clients is a large marketing telecommunications company. We've been creating several promotional videos that showcase the company's products. Our team members have handled all the scriptwriting, filming, animation, and editing efforts.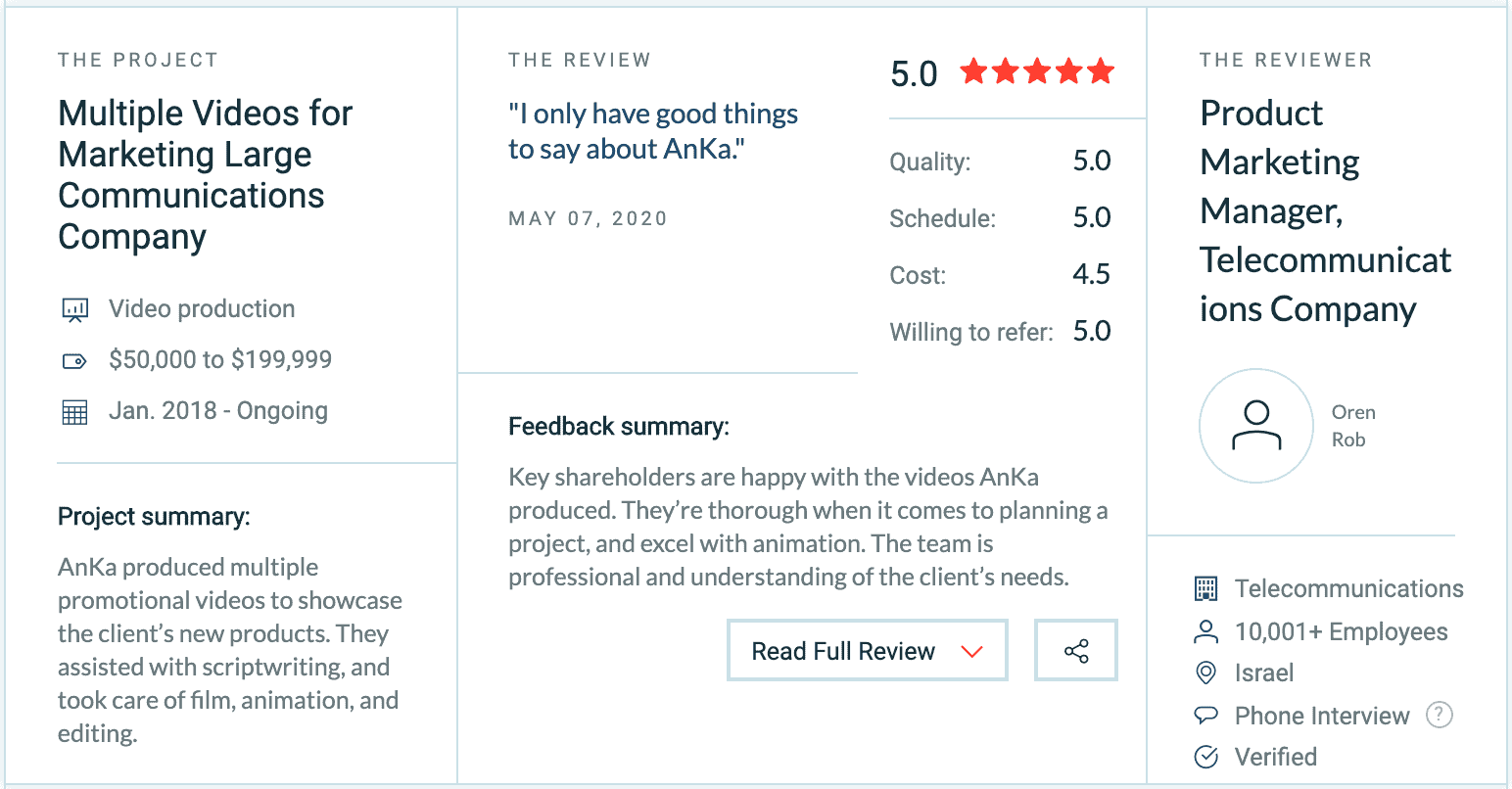 The product marketing manager of the company had this to say about our ongoing engagement. They said, "AnKa is very professional. They have a can-do approach which they project throughout our projects."
We're proud to recognize that our can-do approach isn't just seen in Kaspi Shema, but in all of the members of our devoted AnKa team. Our leadership team is thrilled to celebrate the successes of our employees.
Their dedication and commitment are what allow us to continually deliver top-notch videos and films. If you're ready to watch your next story come alive, feel free to contact us!